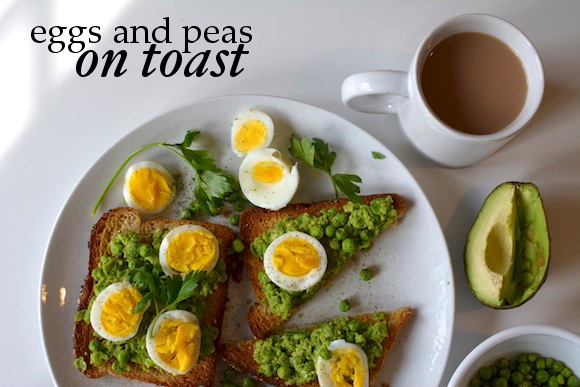 To change up the standard everyday breakfast sandwich of bacon, cheese, and eggs, I decided to try something new and healthy. Mashed peas and hard boiled eggs on toast. It sounds a bit extreme at first, but it's a surprisingly filling and delicious way to start the day.
1 cup of peas – fresh or frozen, thawed
1/2 an avocado
2 slices of toasted multigrain bread
a little bit of parsley
2 large eggs
a splash of olive oil
coarse salt and ground black pepper
 Boil water in a small pot. Once water is boiling place eggs and cook for 7 minutes.
 In another small pot, bring water to boil and add peas. Keep cooking until peas are tender but still bright green.
 Drain water from peas. In a separate bowl add a splash of olive oil to the peas. Use a potato masher and mash peas and avocado.
Spread mashed peas and avocado on toasted bread and serve with sliced eggs on top.
 Garnish with parsley and sprinkle with salt and black pepper.