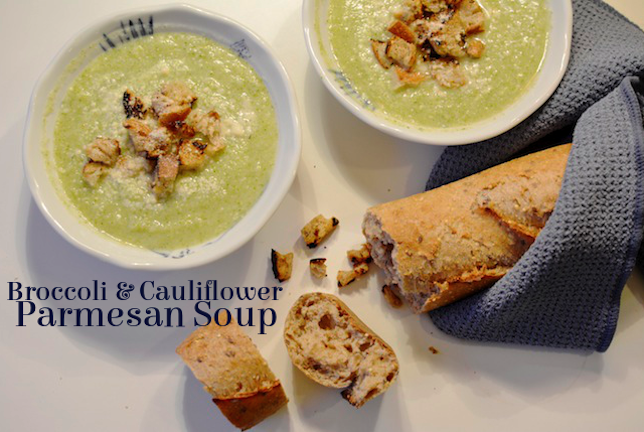 With the weather reports of lately, I'm fully prepared to be snowed in, with no binding plans and no pressing meetings. And what better to do on a day like today than make a big pot of homemade soup? I enjoy cooking, mostly because I like knowing what goes into the food I eat, but also, I like knowing that the ingredients I eat are simple, fresh, and for the most part, healthy. Here's a soup recipe that will surely give you a delicious daily intake of veggies and at the same time, warm your tummy.
1 broccoli
1 cauliflower
1 onion
2 cloves of garlic, peeled and smashed
2 cups of chicken or vegetable broth
1 teaspoon of olive oil
1 teaspoon of butter
Sprinkles of parmesan cheese
Salt
Pepper
Splash of milk
Slice of bread for breadcrumb topping
Soup
Trim the ends of the broccoli and cauliflower off and put the remainder of the vegetable in a large pot. Add about an inch of water and bring the pot to a boil. Cook and cover until soft.
Peel and chop the onion and garlic. Melt a teaspoon of butter in a pan and add the onion and garlic. Cook for about 5 minutes until soft.
When the broccoli and cauliflower are cooked, add the chopped onion and garlic to the large pot. Also add 2 cups of chicken or vegetable brother and a teaspoon of olive oil.
Use a hand-held immersion blender to blend so that everything in the pot is smooth like a purée.
Mix in a splash of milk, parmesan cheese, and as much salt and pepper as desired. (I slowly add salt and pepper, little by little, tasting as I go, to get the perfect amount).
Heat until warm and serve with breadcrumb topping and parmesan cheese sprinkled on top.
Breadcrumb Topping
Cut bread into little squares (I used the end of whole grain baguette).
Put bread in a pan with a little bit of olive oil or butter.
Fry until breadcrumbs are crunchy and golden brown.