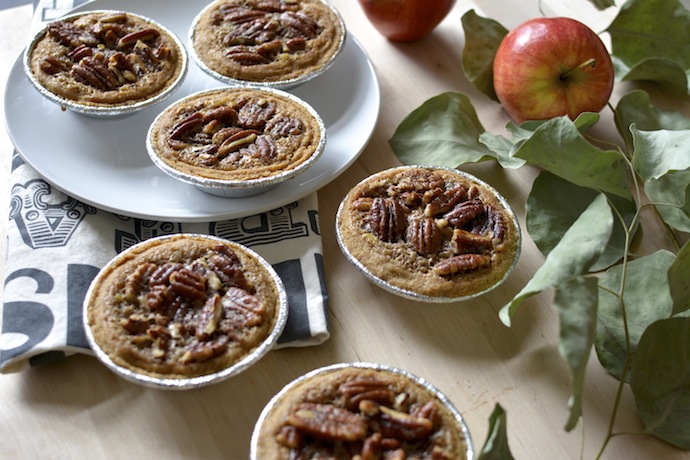 I never really liked pecan pie until I met my fiancé. It is his absolute favorite dessert, and whenever he gets it, I always end up taking a few bites here, and then a few bites there, to the point where I eat more than half the slice. Whoops! When I choose pies, I tend to lean more towards the fruity pies, like apple or blueberry. But because he loves his pecan pies so much, I figured I'd try and make these mini ones. Aren't they cute? I think they're great to use as gifts during this holiday season; as a hostess gift, for a friend, or a co-worker. They are thoughtful, delicious and super easy to make, and show that you put an extra bit of love and sweetness into your gift.
6 of Keebler's Mini Ready Crust Graham Pie Crust
 1 1/2 cups pecan halves
1/3 cup of sugar
1/3 cup of brown sugar
2 large eggs
1 1/2 tablespoon of melted butter
1 teaspoon of vanilla extract
Sprinkle of salt
Little splash of hot water
*I decided to opt out of using corn syrup, brown sugar and hot water work just as well
Preheat oven to 350 degrees. In a mixing bowl stir together the sugar, brown sugar, and a splash of hot water. Mix well.
Add in the eggs, pecans, butter, vanilla and salt. Continue to stir.
 Spoon about 1/4 of the mixture into the mini graham pie crusts.
Place pies on a baking sheet and bake for about 20-25 minutes until golden brown. Enjoy.