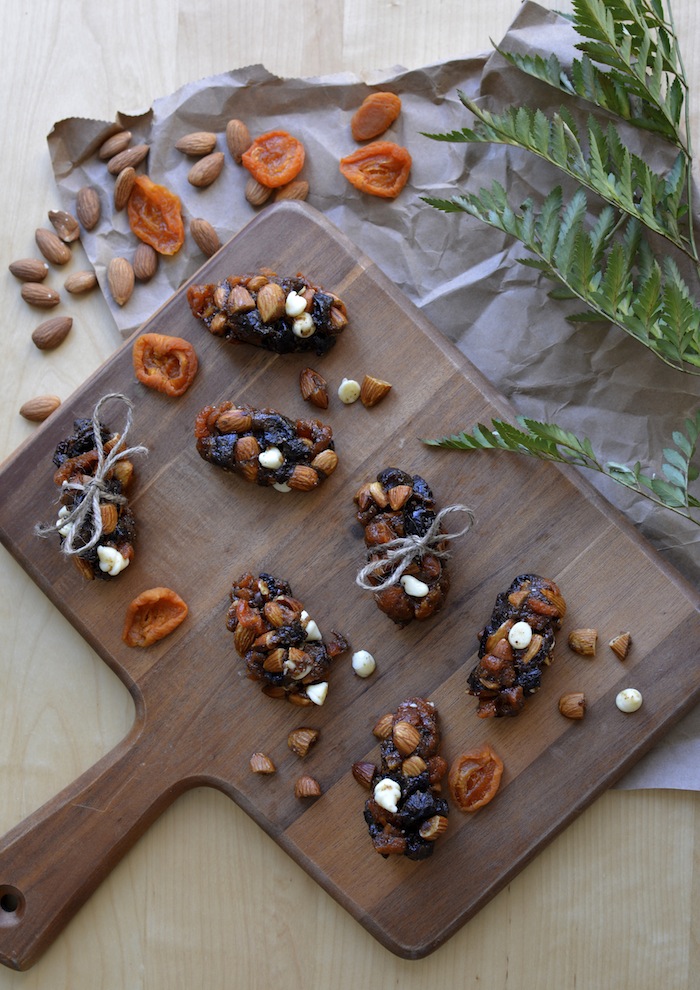 I know, when you read the headline and saw the words prunes, you were probably a little turned off because prunes are in fact, old people food. But I'll admit it, I think they're delicious! I even have a bag of them in the freezer because they're delicious frozen, too!  They were a key ingredient in this amazing bar recipe. I love healthy bars because they're a quick and convenient way to keep you full and energized until your next meal. And who doesn't love that? What I don't love about all the (granola/energy/protein) bars out there is that they often include additional sugar. So not necessary, huh? I created my own healthy bar recipe that doesn't require any additional grams of sugar. They include organic almonds, apricots, prunes and even little white chocolate chip teasers!
1 cup chopped dried prunes
1 cup chopped almonds
1/2 cup chopped dried apricots
Handful of white chocolate chips
1 tablespoon almond butter
1 teaspoon honey
1/3 cup flaxseed meal
Sprinkle of salt
Preheat the oven to 300 degrees F. Line a baking pan with parchment paper. I didn't have any in the house, so I just greased the pan, however I think parchment paper will help make your life a lot easier.
In a large mixing bowl, combine the almond butter, flaxseed meal, salt, honey, apricots, almonds, prunes and white chocolate chips. Mix together.
Scoop mixture into baking pan and pack it down well.
Bake for 25 minutes then remove from the oven and let it cool. Once cool, place it in the fridge to harden.
Cut into small pieces. I'm not going to lie, some of mine fell apart (should've used that parchment paper!) but you can easily shape them back together. Enjoy.