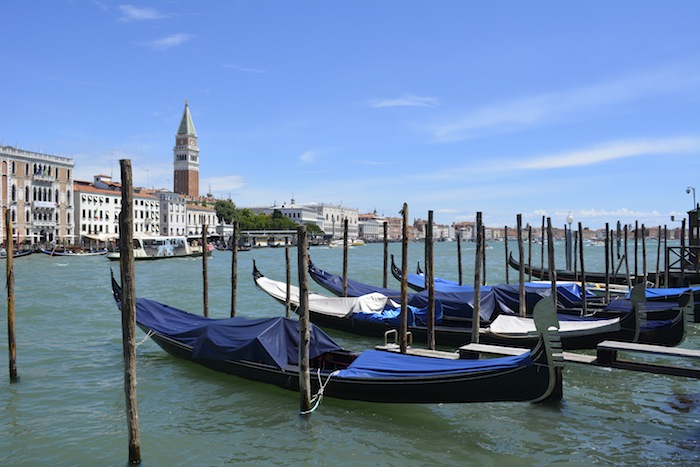 I had fun writing travel tips for this post and remembered that in this post, I mentioned I'd share some Venice travel tips. People often do day trips to Venice or perhaps one to two days there, however I recommend staying a little while longer to really get a good feel for the city. It's one of the most enchanting places I've ever been and pictures really don't do it justice. Here are 18 things that you absolutely must do and see while in Venice.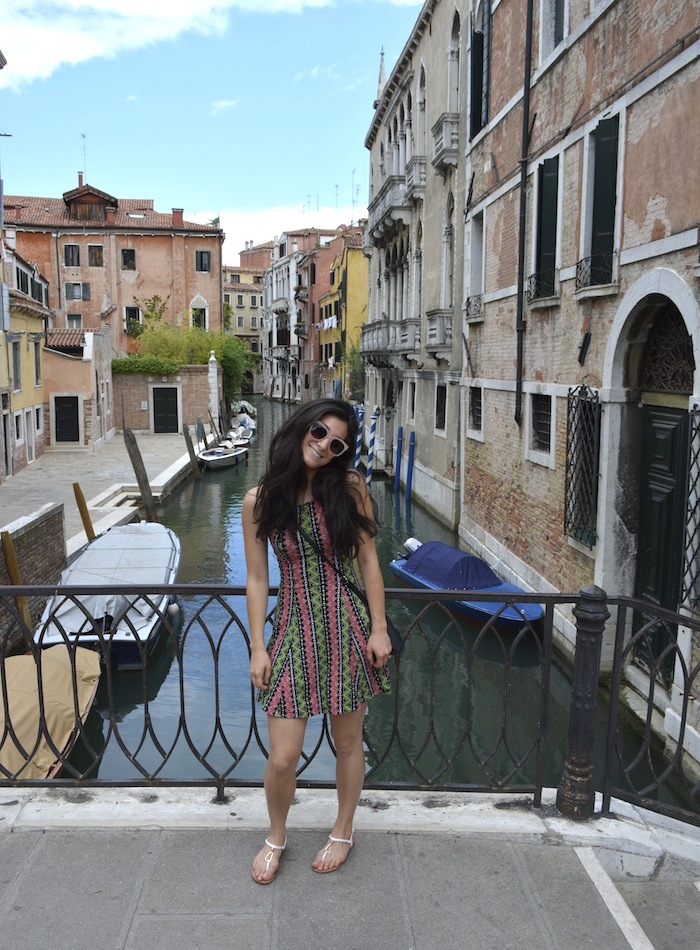 1.) Go Off The Beaten Path
Put your maps away and go get lost. Let's face it, you're going to get lost in Venice anyways, so you might as well enjoy it. Instead of battling crowds by the main tourist attractions, Dave and I loved exploring the quieter neighborhoods of Dorsoduro and Castello. These neighborhoods really gave us a true taste of local Venice. We stumbled across beautiful shops and traditional Italian restaurants.
2.) Visit St. Marks Basilica
One of the most beautiful cathedrals in Italy, you won't want to miss it! Make sure you look up to see the gorgeous golden mosaic interior. The line to get in St. Marks Basilica will probably look very long, but it does move fairly quickly. We went in the morning and waited about 15 minutes to get in. Definitely worth the wait!
3.) Buy A Day Ticket For The Vaporetto
I think this was our best purchase while staying in Venice. We were pretty ambitious and bought a 24 hour vaporetto ticket to go from Venice to Moreno to Burano and then to Lido and back to Venice. Getting on and off the boat to visit the other islands was definitely a highlight of mine. Murano is a quaint little canal town famous for its glassblowing. Burano is a colorful tourist stop, famous for its lace and painted houses. Lido is more of a residential beach town. We had so much fun exploring the islands outside of Venice, they each had their own local flare. If you spend a few hours in each location, it makes for a great day trip!

 4.) Wake Up Early And Stay Out Late
The chances of going to Venice and it not being packed with tourists are quite slim. To avoid seeing a ton of tourists and more of Venice, I highly suggest venturing out early in the morning or late at night. The early mornings in Venice are just spectacular. Dave and I would get out early and go on a run or explore the city before the city was even awake. I also recommend staying out late. Venice isn't super big on nightlife, so the city remains pretty quiet at night. The majority of tourists don't stay in Venice, but rather they take boats and trains off the island in the evening. The city empties out and some nights there would be no one on the streets. Literally, no one. It was a little creepy seeing the streets so empty, but mostly, very romantic.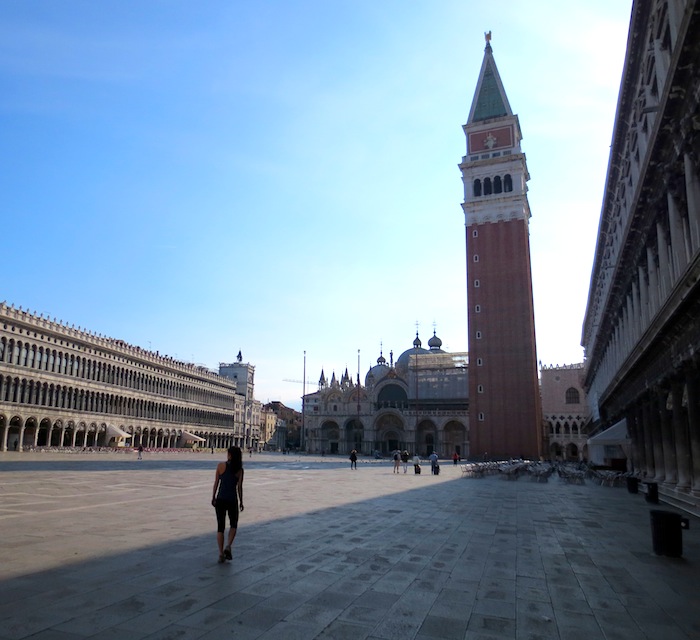 5.) Watch A Free Glass Blowing Demonstration In Murano
If you go to Murano, one of the coolest things to do there is to watch a glass blowing demonstration. It was free too, so that made it even cooler! It's amazing how quickly and effortlessly they put together colorful glass pieces. We stood there, watching the glass blowing demonstration over and over again because we were so mesmerized by the process. Murano glass is the perfect souvenir to take home and also makes for a great gift.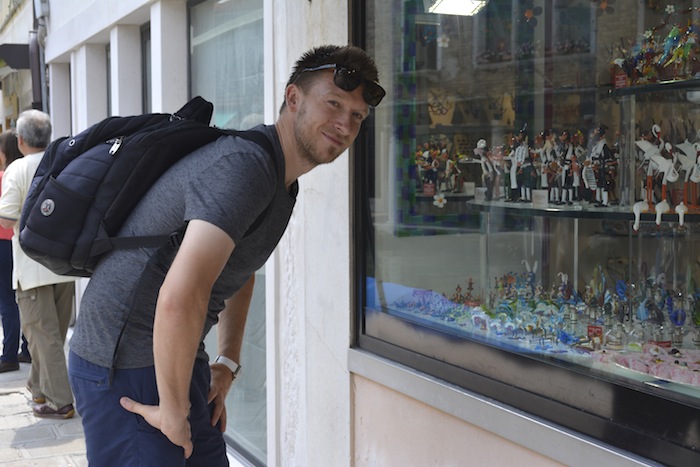 6.) Treat Yourself To Some Traditional Cocktails
Originated in Venice, spritz is a refreshing drink made with prosecco, sparkling water, olive juice and an orange wedge. Another signature drink originated from Venice is the bellini, made with prosecco and peach purée.

7.) Take A Ride Down The Grand Canal
Whether you decide to take a vaporetto or a water taxi, I highly suggest taking a ride down the grand canal. There's nothing that feels more magical than cruising down the canal, drink in hand, passing the beautiful buildings while watching all the boats and people ride by. If you're on a budget, a one way vaporetto ticket is the way to go, it's only 7 euros. A private water taxi will be more expensive, but worth the splurge!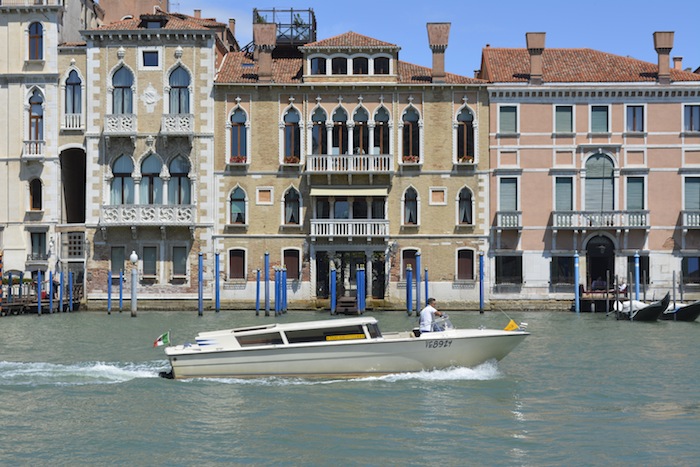 8.) Stand At The Punta Della Dogana
Punta della Dogana is a triangular shaped art museum, however the building used to be Venice's custom point which controlled all boats coming in and out of the canal. While we didn't go into the museum, we loved sitting at the point because it has some of the best views of Venice.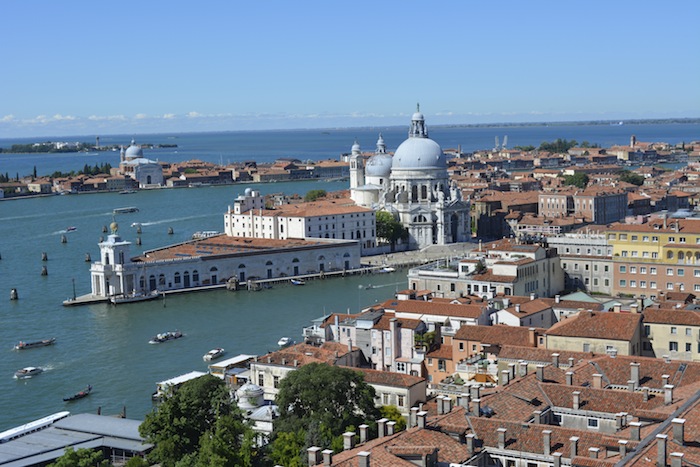 9.) Ride A Gondola At Dusk
One of the best tips someone gave us in Venice was to go on a gondola ride at dusk or in the evening. During the day, the canals can be quite crowded. A gondola ride is by far the most romantic at dusk; when the sun is setting, the water is still and the tourists leave the island. It's super quiet and all you can hear are the strokes of water from your gondolier. A gondola ride is not cheap, it's about 100 euros for half an hour. Prices do go up by 20 euros in the evenings, however the experience is totally worth it. And let's be real, you can't not ride a gondola when you're in Venice, so you might as well make it a good one!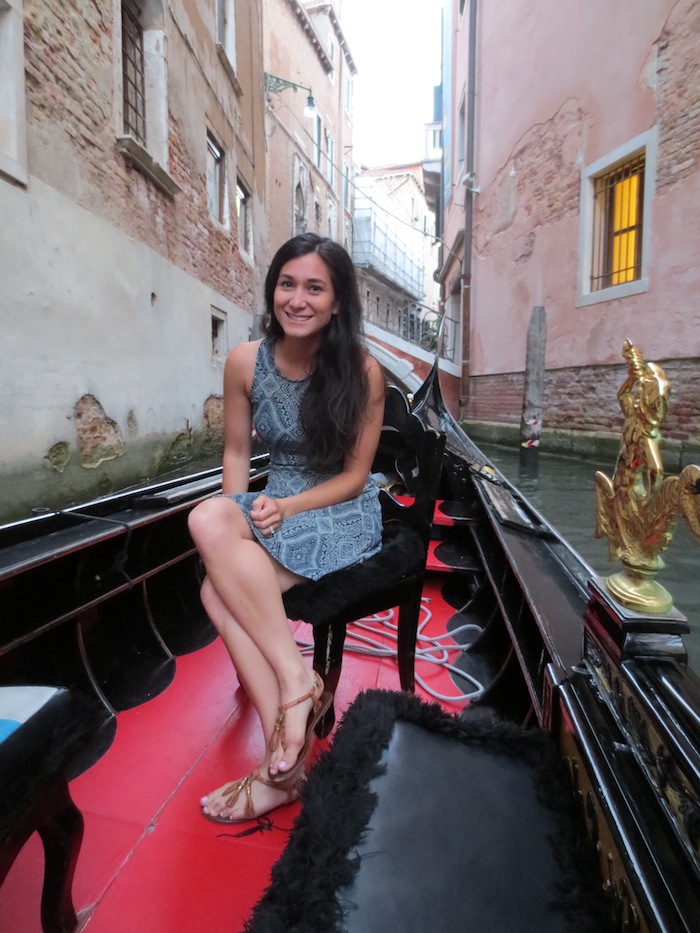 10.) Go Up The Campanile
It's only a few euros and an elevator ride up to a breath taking view. You get 360 degrees of Venice, you can see the red rooftops, the scattered islands, the boats and the blue water. It's quite the view.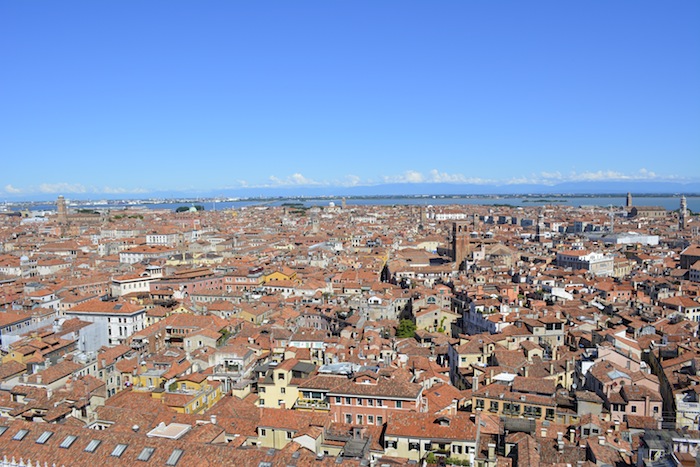 11.) Walk Across The Famous Bridges
Venice has a number of iconic bridges: Rialto Bridge, Ponte dell'Accademia, Bridge of Sighs and the most modern, Calatrava (Constitution) Bridge. All of them are extremely different, offer great views and are easily accessible.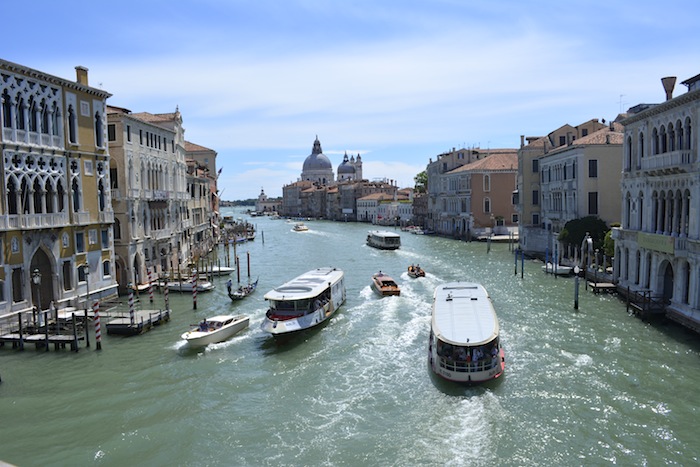 12.) Listen To Music And Drink Coffee At Piazza San Marco
Piazza San Marco is one of the most gorgeous, iconic plazas. It's a great place to sit and watch the world go by. It's famous for it's elite cafes, Caffé Florian and Caffé Lavena. Caffé Florian is one of the oldest coffee houses in Europe to ever serve coffee. We loved sitting outside Caffé Florian, sipping on cappuccinos and ordering desserts while listening to the orchestra play. Again, Venice isn't cheap. The coffee and desserts are overly priced, but if you sit and stay a while, it's worth every penny euro.
13.) Tour Palazzo Ducale
Doge's Palace is a great place to explore if you're looking to escape the heat and get some shade. We spent the morning there one day and had a great time wandering around the museum. We especially loved the large, intricate courtyard and the prison dungeons.
14.) Eat Pasta, Pizza, Gelato, Cannolis…
While you're in Venice, you have to eat as much Italian food that you can get. My personal favorite dish, linguini ai frutti di mare and gelato from Gelateria Paolin.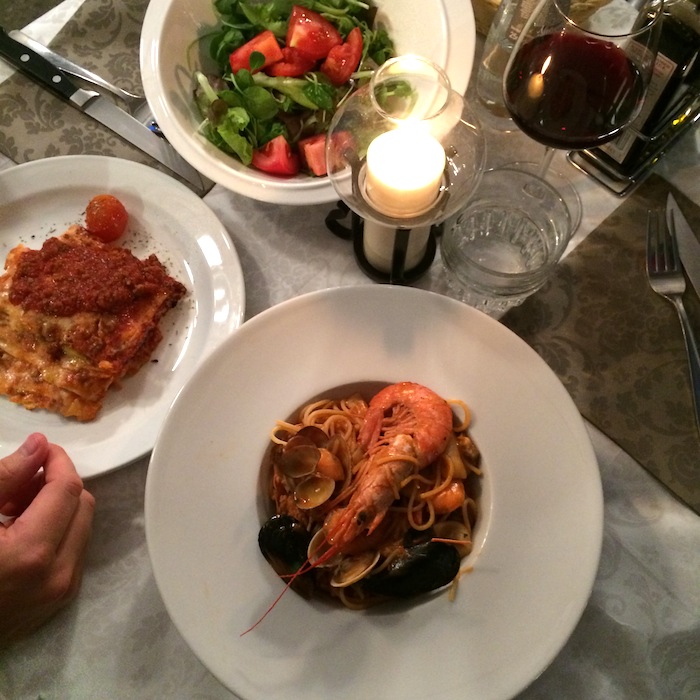 15.) Sunbathe In Lido
If you want to escape the city, I highly recommend hopping on a vaporetto to visit Lido beach. We did a half day there and loved walking up and down the shore. There are some fun bars and restaurants by the beach, we found a great one with beanbags and a canopy.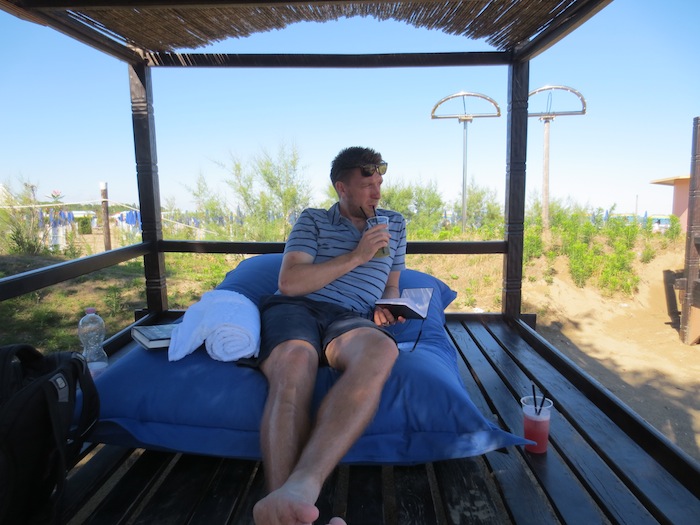 16.) Wine On The Rooftop
When in Venice, you should definitely see if your hotel has a rooftop patio. Our hotel had a rooftop with a bunch of comfy chairs and stunning views of the city. Make sure you check out your hotel roof, bring a few glasses of wine and watch the sunset.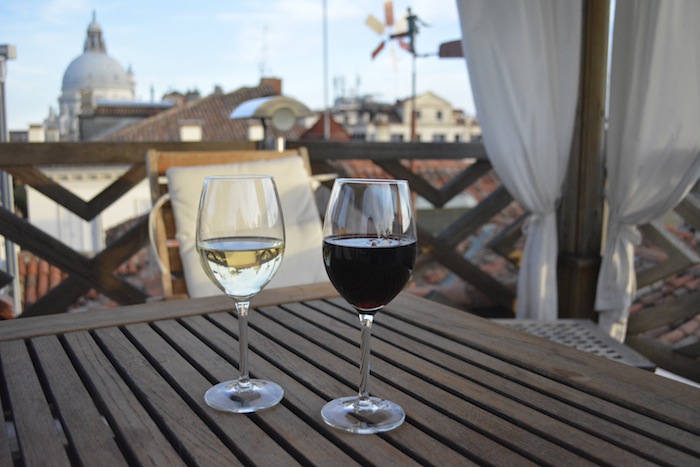 17.) Find The Free Art Museums
There are plenty of free art museums in Venice. We just stumbled upon them, not even looking to go in. However, the exhibits looked really cool and enticing that we had to take a peek at a few of the galleries.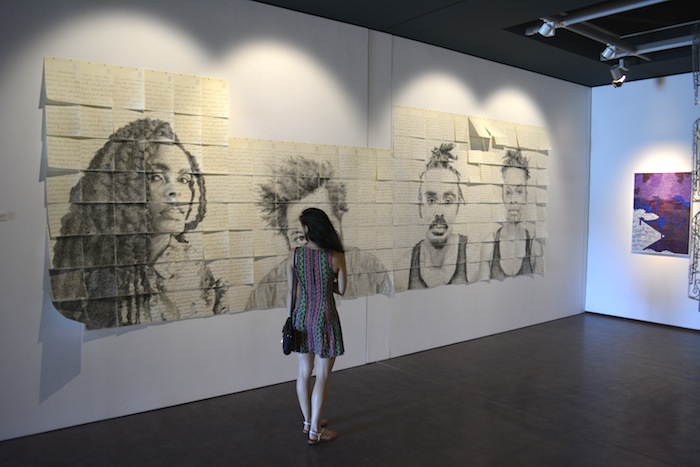 18.) Sit On The Steps Of Santa Maria Della Salute
A perfect spot to sit and rest your touring legs. Buy a bottle of wine and watch the boats float on by…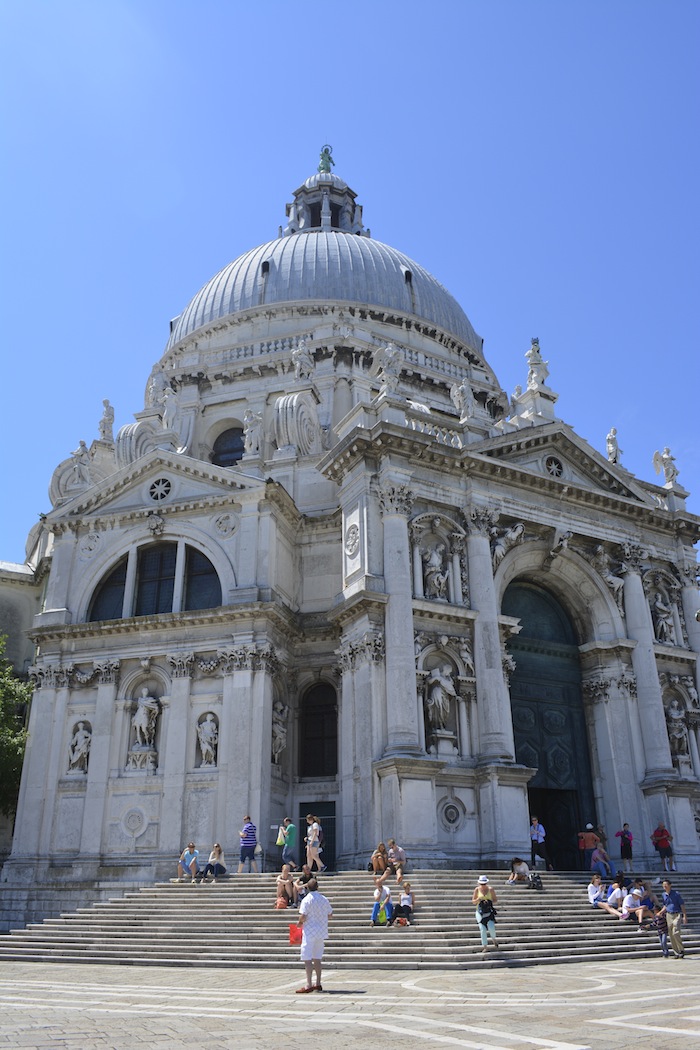 There you have it, 18 things you must see and do while in Venice. Have you ever been to Venice or are you thinking of planning a trip there? I'd love to hear what your Venice must sees are!