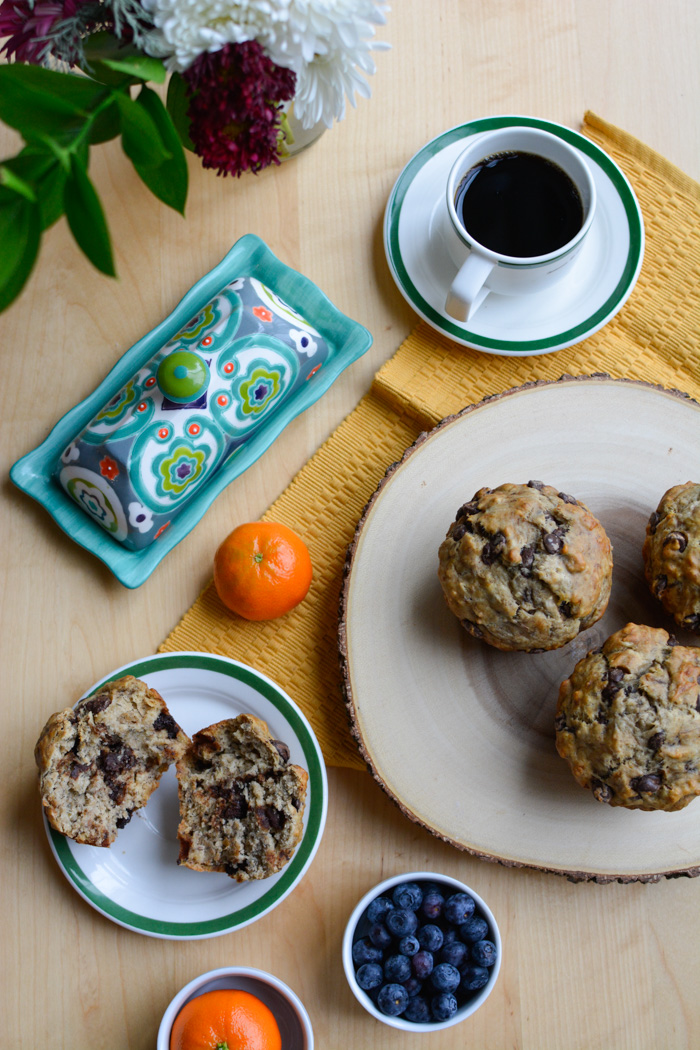 When we have visitors stay overnight, I like to have some kind of baked good already made for breakfast the next morning. The last time my family was in town, I made these easy chocolate chip banana muffins. I tried to cut out some of the fat from the butter by using coconut oil instead. They turned out pretty delicious! If you're making them the night before your guests come, I highly recommend toasting them up so they're nice and warm when served with morning cups of coffee.
2 cups of flour
1 teaspoon baking powder
1 teaspoon baking soda
2 eggs
1 cup mashed bananas
1/3 cup melted coconut oil
1/2 teaspoon salt
1 teaspoon cinnamon
1 teaspoon vanilla
3/4 cup light brown sugar
1/2 cup greek yogurt
1 cup semisweet chocolate chips
Preheat the oven to 350 degrees F. Grease the muffin tin with a little bit of melted coconut oil, nonstick cooking spray or butter.
In a large bowl, mix together the dry ingredients: flour, baking powder, baking soda, salt and cinnamon.
In a separate bowl, mash up the ripe bananas, eggs, coconut oil, vanilla and brown sugar. Stir well and toss in the chocolate chips.
Pour the wet ingredients into the bowl of dry ingredients and mix together. Scoop batter evenly into the muffin tin, filling each tin up 3/4 of the way.
Bake for 20 minutes. Stick a tooth pick inside to make sure the center is fully cooked. Enjoy.