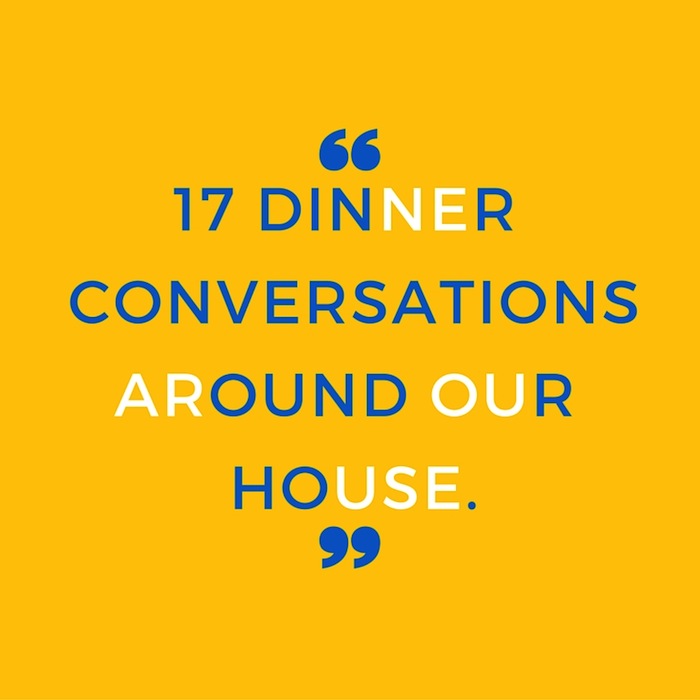 I read this post "10 Questions to Ask Your Partner at the Dinner Table" and it got me thinking, what do Dave and I usually talk about during dinner? I can easily say that dinner is one of the highlights of my day because we get to sit down, unwind and chat, and obviously, food. I love the idea of asking questions at the dinner table, I think we'll have to try these ones out this week. But in the meantime, I've taken note of what some of our dinner conversations are around the house. Here's what we're usually conversing about:
1.) The highs and lows
Sharing the highs and lows of our days is an easy conversation that helps us tell each other more than just "my day was good". During the work week, we make it a rule that our high can't include something that we did together.
2.) Updates on our families
Since our family is spread out around the country and across the pond, we like to give each other updates on what they've been up to.
3.) Weekly goals
We help hold each other accountable and encourage one another by discussing what we want to accomplish throughout the week.
4.) What we're grateful for
I truly believe gratitude is the best way to a happy heart, so we'll share things that we're thankful for.
5.) People we've been thinking of
Whether it's friends that live far away or someone we bumped into, we'll talk about people who are on our mind.
6.) Something that we learned
Because why not teach each other something new?
7.) What we were doing a year ago
To look back and see how far we've come.
8.) Things we're saving up for
Umm… to my dismay there's been lots of talk about a new car?!
9.) What we had for lunch
Yes, it sounds silly but we talk about what we had for lunch.
10.) Childhood stories and memories
Dave was a paper boy back in the day. I can't get over the stories of him doing the paper round at 6 a.m. in his little English village.
11.) Something that made us laugh
Sometimes it's a funny video that we saw online or a funny story from our day. Whatever it is, we especially love sharing stories that make us laugh.
12.) TV shows or movies we'd like to watch
We can't stop watching New Girl. It's hilarious. However, we'd like to get into House of Cards because we've only heard good things.
13.) Weekend plans
It's always nice to talk about what we have planned for the weekend, if even it's nothing too special.
14.) What new restaurants we want to try
It makes date night that much more fun when get to try a new restaurant that we've been eyeing.
 15.) Books we want to read
I have to read this book before I see the movie. The trailer looks heartbreakingly good!
16.) What silly things Samson did throughout the day
Since he's so entertaining we're usually sharing Samson stories at the dinner table.
17.) Where we think we'll be a year from now
We'll discuss future plans, which are both scary and exciting, but mostly exciting!
I'd love to know, what do you and your partner or friends usually talk about around the dinner table?