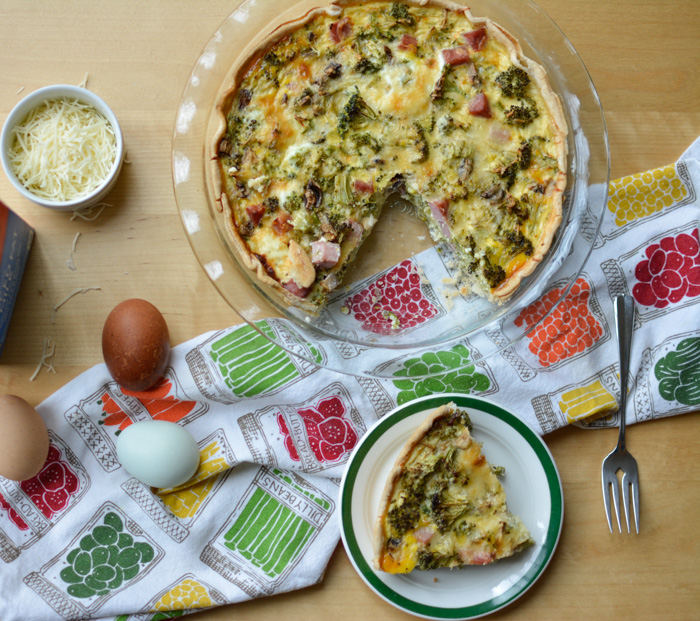 I love quiches for a few reasons. They're easy to make, they taste good hot or cold, they last a few days in the refrigerator, they're the perfect dish for serving large groups, and obviously, cheese. What's not to love when one of the main ingredients is cheese? I made this cheddar, ham, mushroom and broccoli quiche the other day and after Dave took his second bite, he said, "Mel, this is so good. It could be from a café." To me, that's like the ultimate compliment. So if you too, want a compliment like that, here's the recipe:
1 pie crust (yes, I cheated)
5 large eggs
2 tablespoons olive oil
2 heads of broccoli
3/4 cup cheddar cheese, shredded
1 cup of milk (I used 2% for richer flavor)
3/4 cup of cubed ham pieces
1 cup of mushrooms, chopped
1 teaspoon salt
1/2 teaspoon pepper
1/2 teaspoon paprika
2 cloves garlic, minced
Preheat the oven to 350 degrees. Place the pre-made pie crust into a pie dish and shape it using your fingers.
Bake the pie crust for 5 minutes so it gets crusty.
Pour the olive oil in a large sauce pan. Sautée the broccoli and mushrooms until they're semi-cooked. Add in the garlic, ham, salt and pepper. Remove from the heat and set aside.
In a large mixing bowl, combine eggs, milk, paprika and cheese. Whisk the ingredients together.
Place the broccoli mixture into the large mixing bowl and stir. Pour the entire mixture into the pie crust.
Bake the about 35 to 40 minutes until the top turns golden brown and crispy. Enjoy.