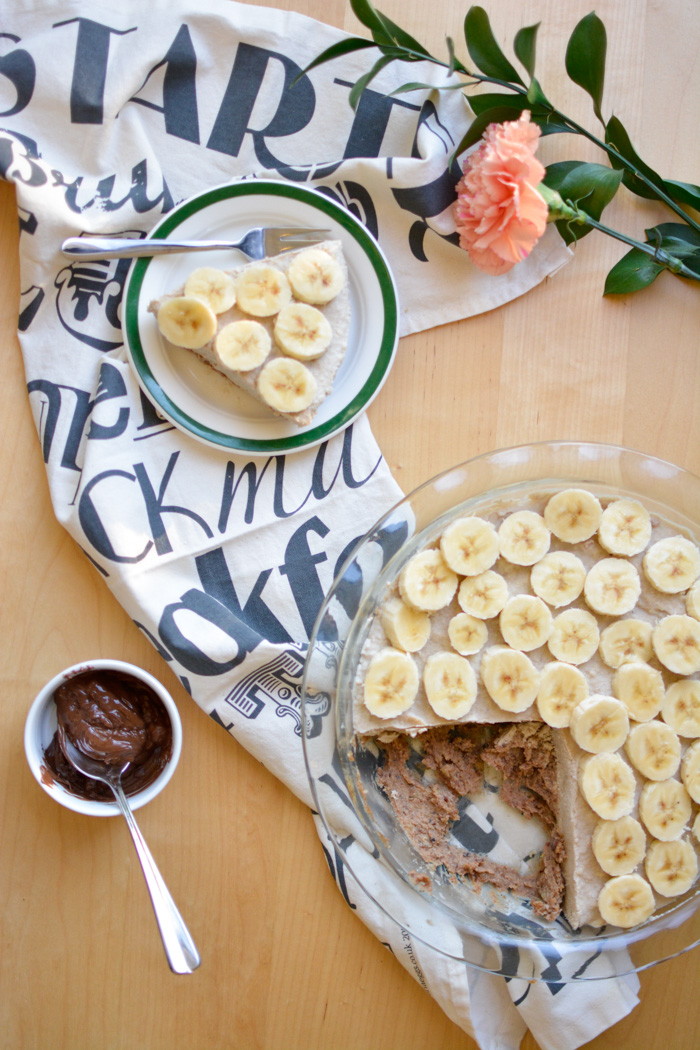 On occasional week day evenings, Dave and I will head into our sleep little town around 9:30 p.m. for a late night walk and a piece of pie. We'll bring the dog with us and we'll take turns running inside the coffee shop to check out the pies in the case, while the other one waits outside with dog. Dave usually chooses pecan pie or something super chocolatey and I lean towards something fruity. We'll share a decaf coffee, sit on the park bench, and eat our sweets. It's such a mundane outing, going to our local coffee shop, but it brings us so much joy and we love that special time together.
So yes, pie. It's a lovely thing and definitely brings us together. I found this raw vegan banana cream pie recipe on Minimalist Baker and once I read it, I knew I had to try it. It's basically made out of cashews, which sounded very intriguing to me. We ate it and we loved it, except I do have one confession. We thought it tasted better when dipped in Nutella. So yep, we sat on the couch with a separate little ramekin filled with Nutella and dunked each fork piece of pie into the Nutella. Absolute deliciousness.
The crust:
1 cup of walnuts
1 cup of pitted dates (soaked in warm water for ten minutes then drained)
A handful of almond meal (this isn't part of the Minimalist Baker recipe, I just added it because we ran out of walnuts)
The filling:
1 1/4 cups of cashews (soaked over night and then drained)
3 1/2 tablespoons coconut oil
1/4 cup of maple syrup
1 banana
1/3 cup of coconut milk
1/2 teaspoon vanilla extract
1/4 teaspoon sea salt
2 tablespoons lemon juice
Put the soaked dates in a food processor and blend. Set aside the dates and then blend the walnuts and almonds in the processor until they are a meal like consistency. Add the dates back into walnut/almond meal, add a pinch of salt and mix well.
Using your fingers, mold the mixture into a pie dish. Press until flat and then place in the freezer to set.
In a blender, add the cashews, coconut oil, maple syrup, banana, coconut milk, vanilla extract, sea salt and lemon juice and blend until smooth and creamy.
Remove the pie crust from the freezer and pour the filling into the crust. Use a spoon to smooth it out.
Freeze for 4–6 hours and then garnish with banana slices. Enjoy.