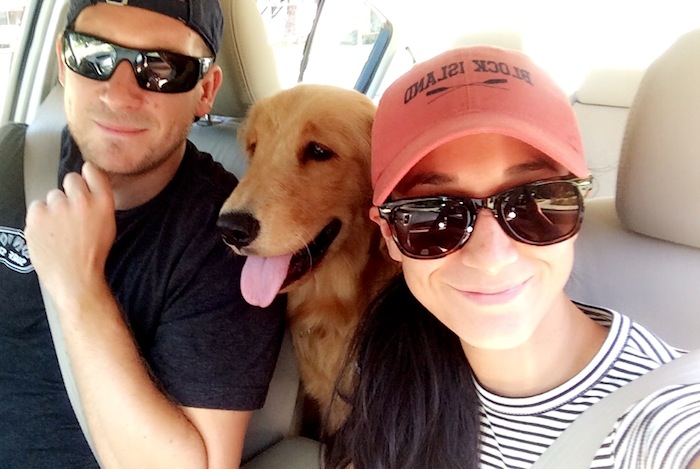 I haven't posted in a while and man, am I ready to get back to blogging. I've missed it! This summer has flown on by and I can't believe we're in September. To be honest, I wasn't planning to be so MIA from my blog, but I guess that means we've been enjoying the summer sunshine and all that it brings, right? So here we go, this is what we've been up to this summer…
In June, Dave and I took a trip back home to Connecticut to visit my family for ten days. We purposely drove back so that we could bring Samson with us. He's never left Michigan before so it was exciting road tripping with him and showing him the Ohio Turnpike and the Tappan Zee Bridge. ;) Initially I was pretty worried about how he would behave on our 10 hour car ride home, especially because he has so much energy. However, right before the long car ride Dave took him to the dog park for a few hours and that completely wore him out. It was such a life saver because once he was in the car, he made himself comfortable and fell right asleep. It was perfect! So really, the road trip wasn't that bad. We also made plenty of stops along the way and ate McDonalds french fries and Boston creme donuts, because you know, those things make for a good road trip.
Poor Samson only got one full seat to himself, but was nice and snug. We had to put the seats down so his crate would fit in the back trunk. One of these days we'll upgrade to a bigger car, but for now I kind of like my car the way it is (minus all the dog hair and paw prints).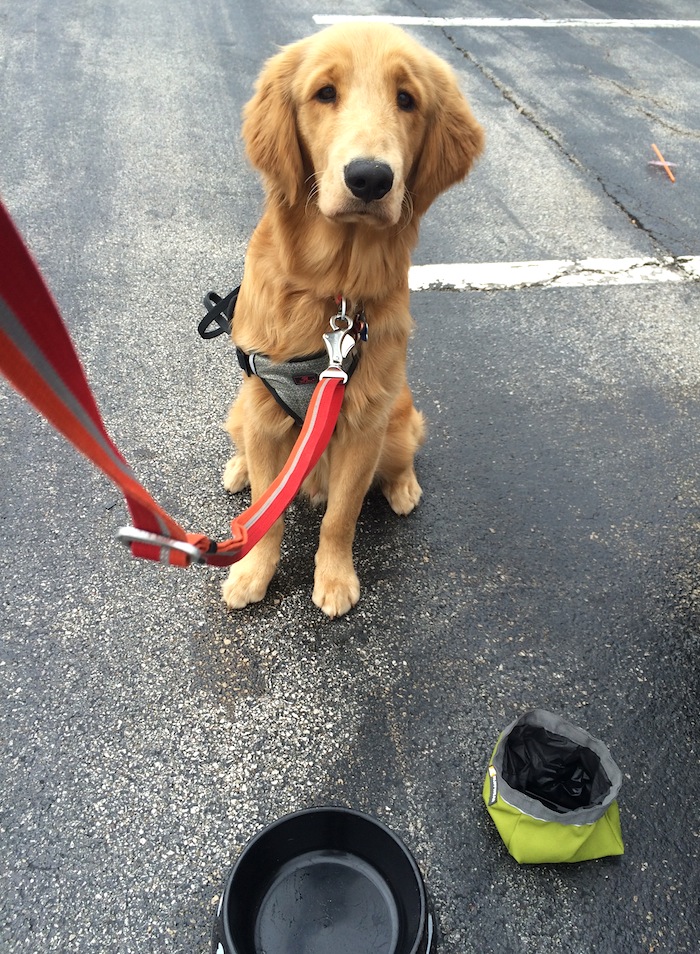 Visiting home was quite a whirlwind. We had something planned almost every day. It can be tricky because when we go back to Connecticut we want to see our family and friends, do all the things in the area that we love, as well as explore new things to make it feel like our own mini vacation. We actually did a pretty good job of splitting it all up and we were able to do a little bit of everything within our short stay.
Our first night home we on a double date with my parents to our favorite taco place, Bar Taco in Westport. Their tacos are seriously so delicious and fresh. We sat outside right next to the water. It was the perfect way to catch up. I mean, just look at this tray of tacos…
We also made a day trip to Hopewell Junction, New York to see my cousins who were in town visiting. We stopped by the church in Hopewell where Dave and I got married at. It was the first time we'd been back since our wedding day. It was so different to see the church in the summer and it brought back all those butterfly feelings. And of course, I made Dave reenact one of the pictures we took outside the church in front of the big green doors. I'm so nostalgic like that, I couldn't help myself.
One of the main reasons we brought Samson to Connecticut was that we wanted to take him swimming at our lake house. Growing up our family golden retriever, Comet loved swimming in the lake so we were hoping Samson would be the same. Samson's never been swimming before, so this was a big moment for us to see how he would react to the water. I honestly didn't think he'd swim right away but once we showed him the lake, we couldn't get him out of it. He figured out how to do the doggie paddle so quickly and was even brave enough to dive off the dock and fully submerge his head! I swear our lake house is doggie heaven.
I had to include the picture above because it pretty much sums up Samson's current puppy stage. I can't remember what he was doing wrong here but he clearly was getting a good scolding. Also, that puppy pout and the fact that he's standing on Dave's foot!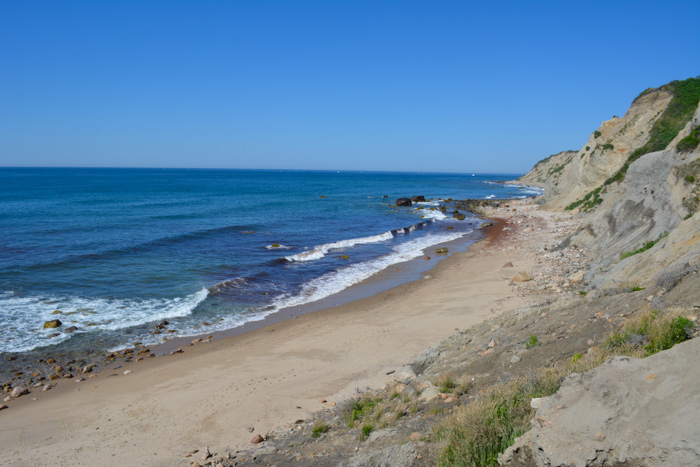 In between our time in Connecticut, I planned a surprise trip for Dave and I to getaway to Rhode Island for 3 days. If you remember back in February he surprised me for my birthday, so I decided it was necessary for me to do a birthday surprise for him, too.  I've never been good at keeping secrets from Dave, so I was very pleased that I actually got to surprise him for once. We left the dog at the lake house, took our bikes, drove to northern Connecticut and hopped on a ferry to Block Island. I know, a 3 day trip doesn't sound like much but it felt like we were gone for a while. We were able to squeeze in so much, it was a great little getaway. I'm planning to do a Block Island post, so more on that to come!
As I mentioned earlier, we really tried to cram everything in, including a trip to New York City to see my friends, cousin and my brothers new apartment (more on that to come as well!) Somehow we also managed to squeeze in a New York City FC vs. New York Red Bulls game. Which was awesome! I think my highlight of the game was the Yankee Stadium chicken tenders but I think Dave's highlight was seeing Andrea Pirlo play. Also, the NYC FC soccer chants were so catchy, we were singing them the whole way back to Michigan!