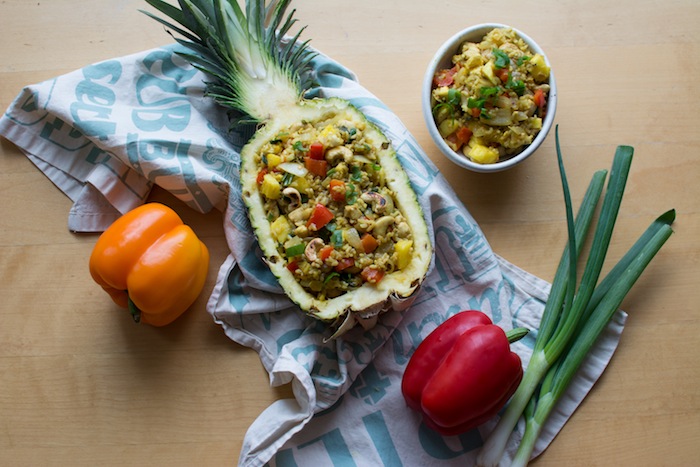 The other night Dave's soccer practice was delayed due to thunderstorms so in between sessions we went for Thai food. We probably, ok most definitely could eat Thai food every day of the week. It's our favorite! We ordered the same thing that we always get – green curry with chicken and veggie pad thai. Creatures of habit, you know? And then after we placed our order, I looked over to my side and there was this woman sitting at the table next to us with this large, beautiful plate of delicious looking pineapple fried rice.  And oh my goodness, you guys after I saw that I couldn't stop thinking about pineapple fried rice. So, I just had to make it over the weekend! It turned out to be so yummy, here's the recipe:
1 package chicken breast (cut into cubes)
2 cups chopped pineapple (I used fresh, but you could use canned as well!)
1 yellow onion
2 tablespoons coconut oil
Fresh ginger
3 cloves of garlic
2 tablespoons sesame oil
4 tablespoons soy sauce
1 red bell pepper
2 cups of brown rice
4 stalks of green onion
2 scrambled eggs
3 teaspoons curry powder
1 teaspoon red chilli pepper
1 handful cashew nuts (for some extra crunch!)
Make rice and set it aside.
In a large skillet on medium heat, sauté the red pepper, onions, garlic and ginger in coconut oil.
In a separate pan, cook chicken breast. Once chicken is cooked tender, add it to the large skillet with the onions.
Pour soy sauce and sesame oil over the chicken and veggies. Add in the rice, scrambled eggs, pineapple and cashews and mix well.
Season with curry powder and red chili pepper and continue to cook on medium heat. If you like the rice a little more saltier, try adding more soy sauce. If you like it spicier, add more curry powder/red chili pepper. Also, to get it crispy you can let the rice caramelize and burn a little at the bottom of your skillet. It tastes sooo good this way!