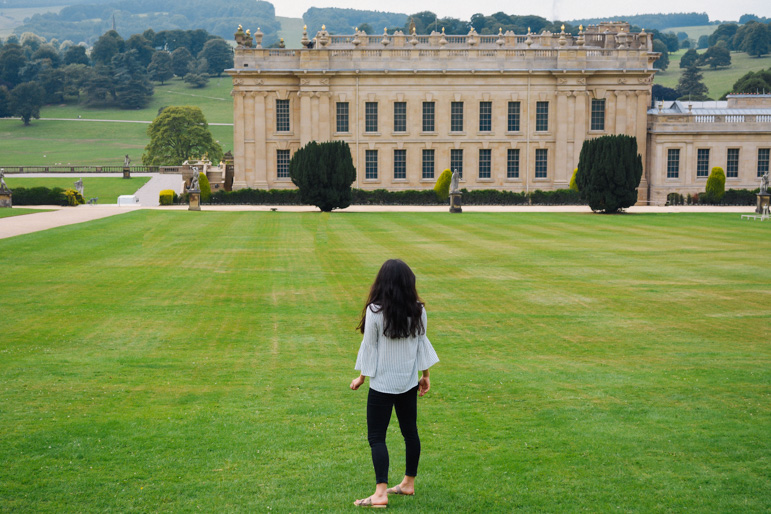 Whenever we go back to England to visit Dave's home, I always beg him to take me to the old historical estates. Mostly just the ones that are in movies/TV shows I've seen like Pride and Prejudice, Downton Abbey or The Crown. I really love these old historical estates because we don't have anything super historical like them in the United States, and they always have the most beautiful gardens!
We actually drove through the Peak District 4 years ago and passed Chatsworth, but unfortunately by the time we got there it was dark outside and we couldn't really see anything. I was so disappointed but in the back of my head I knew we'd be back. This past summer when we went back to England we were somewhat near the Peak District, so we decided to do an extra mini trip so that I could finally visit the Chatsworth House and gardens (aka Mr. Darcy's estate)! 😉
Driving through the Peak District is an event in itself because it's so beautiful and quaint. There are precious little stone houses, pubs after pubs, small villages and rolling hills – it's very scenic. The weather was on and off sunny, mostly cloudy – typical British weather, but we felt like it only added to the very British adventure.
We spent a few hours at the Chatsworth house and I didn't realize that we actually could have spent the entire day there. There is so much to explore on the grounds alone. First we stopped at the Farm Shop for some coffee. Seriously, the cutest little farm shop ever! Most of the products in the store are super fresh and locally produced on the Chatsworth Estate. We picked up a picnic lunch and couldn't help but go near the bakery to bring back a small cake for Dave's mom. We then drove towards the actual house itself and were greeted with TONS of sheep. We parked our car and found a nice spot in front of the house for a picnic.
After lunch we decided we'd go tour the inside of the house. There was a "House Style" exhibit inside which included all the old fashion from the Duke and Duchess. It was impressive to see the old gowns and the jewelry/crowns but I wasn't super impressed with the inside of house itself (I think that's because I've been in a few other royal houses across Europe – this one wasn't THAT much different, they're all big and grand!).
The best part of Chatsworth was walking around the gardens. We did one big loop around the estate, saw the famous fountain, all the beautiful flowers and the perfectly trimmed hedges. We also went into the maize. Luckily, Dave is somewhat of a maize master so we weren't in it for too long. To be honest, I'm not a huge fan of maizes. Anyone else think they feel a little bit too claustrophobic? 😳
I do have to say, being in a big garden totally brought out the childish spirit in us both. It was so fun playing around and exploring. I had to dip my feet in the fountain and we were messing around with photos. I was doing jumping photos in the air (basic, I know) and I have to share this photo below because it's been over 15 years since I've danced. I'm pretty impressed that I can still do a split in the air! Seriously though, just documenting this so that my one-day-50-year-old self can be inspired. (P.S. – My hair!! 😂 And my ballet teacher would totally cringe at those unpointed toes!!!)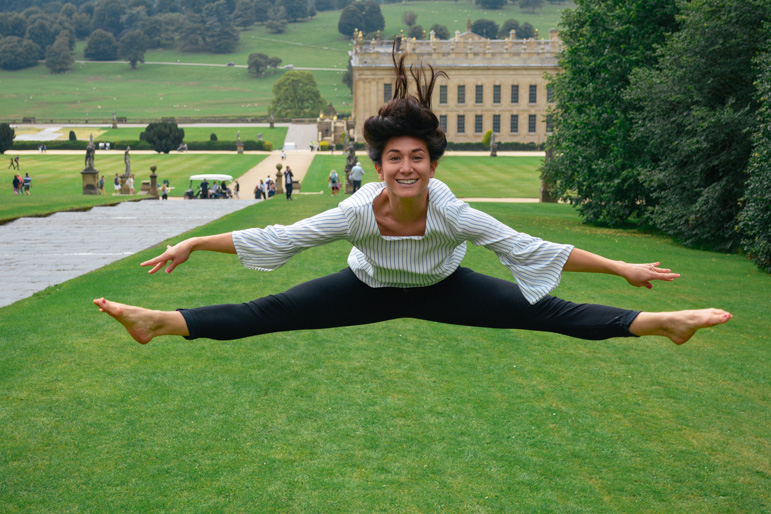 Jeans: http://shopstyle.it/l/k8Ha